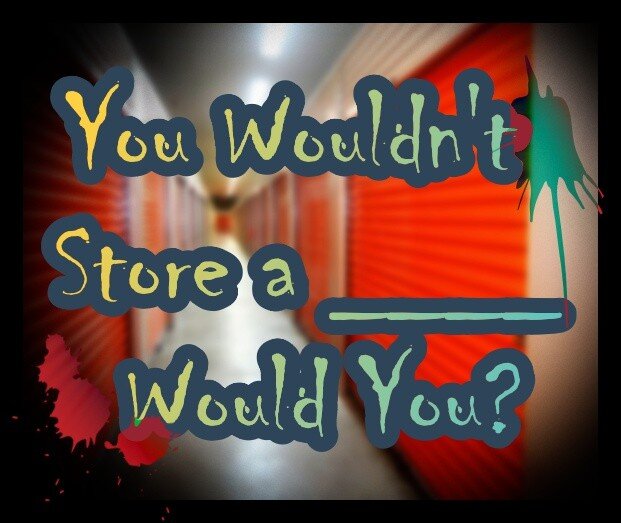 Did you know there are certain items your Greenville, NC movers cannot help you put in storage? We are sure that if you sat down and really thought about it, these items might come to mind. If you really want to think on it, see what words might fill in the "blank" in the photo.
Otherwise, we are in the mood to share these items with you! Some are a bit spookier than others, but believe it or not, there are people in the world who attempt to store these items anyway. Indeed, there are people who attempt to store themselves away in storage units. So, if you have to question whether or not a certain object should go in your storage, chances are it does not need to be in there.
In recent news, a man was charged for holding more than 300 illegal firearms in his storage unit in California. In another story? It was discovered that a woman and her partner were living in their storage unit.
We know you are curious now! Here is a list of what to avoid in your unit.
Drugs, because….oh, they are illegal. They do not belong in your unit.
Animals, alive or dead should not go in your storage unit. These include bears, humans, snakes, dogs and everything else. Departed Animals, especially, will attract disease and infestations that will spook you (and us) out even more.
Stolen Property is also not OK. It results in missing items reports and eventually the police if they find you.
Perishables like bags of sugar or pet food cannot be moved by Greenville, NC movers into your storage unit. Granted ours are weather proof and climate controlled, these items attract mold and insects. Spiders…spiders everywhere.
Combustibles. Paint, gasoline, those sorts of objects? Those are not allowed either. It is a danger to not just you, but also everyone else and their belongings.
Guns. Thanks to the man in CA, we will go ahead and list them. Please, no guns.
Still second guessing? Call your Greenville, NC Movers at Advance Moving & Storage so they can tell you what is or is not allowed.